Contemporary Home
February 2013
We are delighted to have designed a new modern dwelling. The design has been submitted for Planning Approval this month to the Council.
Great Fen Visitors Centre
January 2013
Verve has submitted an entry for the design of the new Visitors Centre for the Wildlife Trust at Great Fen in Huntingdonshire.

Complete for Christmas
December 2012
Our clients are thrilled with their new extension, completely finished on programme, delivering a relaxing family Christmas at home.

Passivhaus Conference
November 2012
A key message - build costs for a Passivhaus design are now close to a 'standard' build, but it delivers comfort and significant savings.

Buckden Nearly Finished
October 2012
The remodelled and extended bungalow is almost complete, a transformation which provides our clients with a Lifetime Home.

Eco Classroom complete
September 2012
St Faith's sustainable classroom extension was successfully completed by Godfrey and Hicks with the design team ready for the start of the new year.

Bram's Self Build Starts August 2012
We are really delighted that Bram's new self-build home is underway near Ipswich. The build is progressing well even with all of the recent rain.

Pre-fabricated Panels
July 2012
St Faiths Eco classroom building's Tradis system superstructure arrives on the back of a lorry and goes up in a week and a half!
Future Climate Showcase
June 2012
We enjoyed meeting the other teams creating adaptation strategies for the Technology Strategy Board's Design for Future Climate programme.
Carpenter Oak
May 2012
Verve are working with Carpenter Oak who specialise in the construction and glazing of green oak framed houses and extensions.

Oak 'Cruck' Extension April 2012
Sustainable extension to listed thatched cottage, with traditional oak frame constructed using sheepswool insulation and cedar shingles.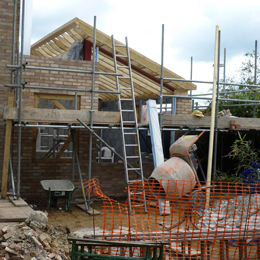 Red Lion Lane on site
March 2012
Our project in Sutton is progressing well. The new extension and extensive internal remodelling creates fantastic new spaces.

Green Construction
February 2012
Verve Architects will be attending Ecobuild next month. Sustainable materials, thermal mass and climate adaptation are key areas of interest.

Green light for extension
January 2012
We are delighted that our client's have received consent for a new two storey rear and side extension in Cambridge.

Eco Classroom Extension
December 2011
St Faiths new classroom is a high performance, sustainable timber panel construction fully filled with Warmcell cellulose insulation.

Contemporary House
November 2011
Planning consent is granted by South Cambridgeshire District Council for a new contemporary dwelling at Fen Road in Milton.
Design for Future Climate
October 2011
The Technology Strategy Board is supporting the first climate change adaptation study to apply Passivhaus EnerPHit standards to a School.
Two Consents Granted
September 2011
We are pleased to announce that planning permission has been granted for our client's extensions in Buckden and Sutton.
The Light House
August 2011
The project is progressing well on site at Worts Causeway. You can really see the impact of the changes now the scaffolding is down.
Climate Change
July 2011
We are assisting St. Faith's School to look at the impact that climate change will have on their buildings and the school environment.
Eco-Refurbishers
June 2011
Verve are Accredited Eco-refurbishers trained in designing sustainable measures in historic buildings and energy conservation.
Planning Granted
May 2011
Planning consent is granted for a residential office conversion in Cambridge and for the retrofit project at St. Faith's School Pre-Prep.
Work Starts on Site
April 2011
Two of our exciting residential projects are now on site, the Garden Room in Cottenham and the Light House in Cambridge.
St.Faith's Pre-Prep
March 2011
A planning application has been submitted to upgrade and refurbish an existing classroom block to EYFS standards at St.Faith's School.
Passive House Designers February 2011
The PassivHaus Institute has approved Verve as Certified Passive House Designers, enabling us to design advanced low energy buildings.
The Green Register
January 2011
We are delighted to have been accepted as members of the Green Register for Construction Professionals pioneering sustainable building.